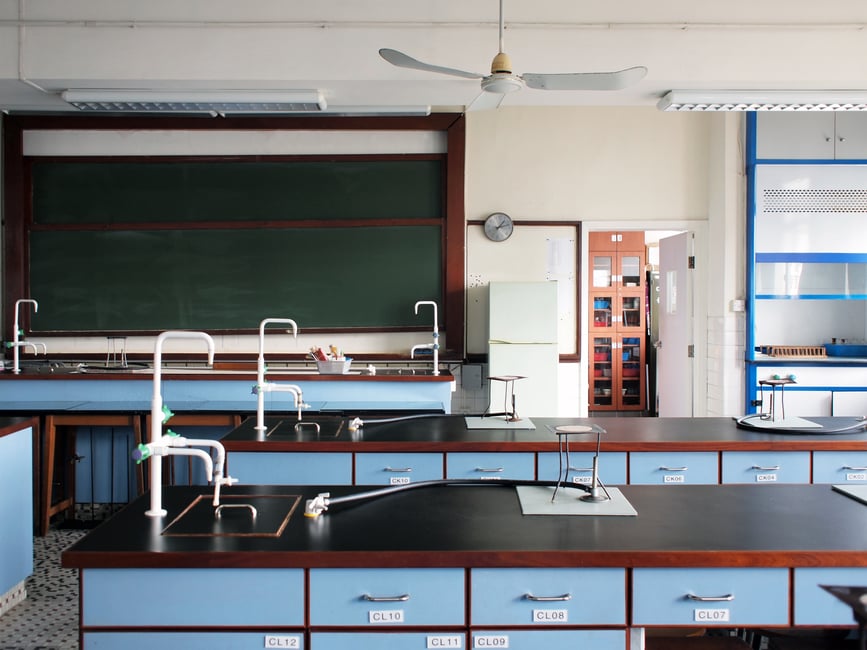 In today's educational workplace, it is by no means uncommon for staff to encounter violent situations where serious bodily harm is inflicted. According to the NASUWT union, one in four teachers face attacks on a weekly basis or even more frequently, whilst rates of assaults on other staff are increasing also. But attacks are not just against adults, with many students finding themselves targets as well due to factors such as bullying or escalation of longstanding disagreements. It may come as a shock to some, but this violence is not only meted out by pupils, but in some cases can be from people coming into the school from outside.
Attackers can be disgruntled parents or pupils from other schools looking to settle a dispute. In more serious situations, even gang violence can play a role. One of the primary measures that can be taken to stop an attacker from harming staff or students, is for staff to initiate a lockdown of the school. This involves locking classroom doors and windows to stop threatening individuals from gaining access. The entrances and exits to the building itself can also be sealed so that if the police are called, they can more easily apprehend the person. But whilst lockdowns are a useful tool, how can their effectiveness be improved and how can staff keep themselves safe when initiating the procedure?
In many schools, events that would trigger a lockdown are an almost unthinkable occurrence, meaning that the procedure is often of a low priority (in terms of training) and consists of a staff member or messengers verbally telling others to close their rooms. In more violence-prone institutions, lockdown is often triggered via a public address system directly informing pupils and teachers of the situation and providing instructions.
Both of these solutions may appear fairly adequate on the surface, but they have significant drawbacks. The first method (delivering a warning in person) is slow and can lead to information being forgotten or miscommunicated, leaving people at risk for an unacceptable amount of time. Using the public address system also creates problems, sewing panic amongst the students and potentially enraging a dangerous individual even further, spurring them on to more unpredictable behaviour. However, by integrating technology into the response, we can significantly improve reaction times and keep people calm whilst making sure important information is not missed.
An automated solution such as a critical alarm management system can help tremendously with improving effectiveness. This essentially operates as a 'bolt on' upgrade to the schools existing communications infrastructure, providing an automatic reporting system through which staff can report or monitor problems as they occur. The system is accessible via both a desktop application and an app that can be downloaded to a mobile device such as a smartphone or tablet. When an issue is reported, a preset notification is sent via the system to the relevant personnel so that they are aware of the problem. For high priority incidents such as classroom violence, teachers can use the system to send a notification that will summon all available staff in the vicinity to their location so they can assist. Alternatively, the system can initiate a lockdown procedure, instantly letting all teachers know to lock their rooms with just a single discreet alert.
Obviously, this is much faster and more considerate than using a loudspeaker to raise the alarm, but what about when a member of staff is face to face with danger? Fortunately, in addition to a critical alarm management system ANT produces a number of dedicated workplace safety devices that are purpose built to be integrated into the network. Alongside a number of toughened smart devices, single-function 'panic buttons' are also available. These set off a high priority alert that can both summon help to a classroom and trigger a lockdown with one press (if so desired), allowing a teacher instantly raise the alarm if they think that a situation has escalated beyond the point where they can defuse it. As well as being fast to use, these devices can also be stealthy. Panic buttons can be installed as fixed additions to desks and other surfaces where they will be out of sight of most people. Alternatively, they can be issued to employees as wearable devices, which can be tracked around a site using existing data networks. This means that staff in high-risk environments will still be able to summon help even if they are away from their desk. Ultimately, a single-function and easy to use button is much easier to deploy in a surreptitious manner, unlike calling for help or using a smartphone app. Teachers can therefore keep their classes calm and remain in control of the situation even as the lockdown is triggered.
Furthermore, the automated system makes sure senior staff members are included in high-priority alarms, giving them the option to notify the emergency services if they deem the situation to be serious enough. All communications going through the critical alarm management system are also logged and tied to a specific incident, meaning that teachers can add important details via the notification system that can further aid in both containing the situation via existing lockdown procedures and later be used when dealing with the individuals responsible.
Communication is key in dealing with emergencies, even more so when they are caused by the actions of hostile parties. By upgrading to a truly modern communication system, schools can cut down on response times and confusion when lockdowns need to be triggered, letting the automated systems do the hard work whilst staff focus on protecting themselves and their students. As a further bonus, ANT's products are expressly designed to easily integrate into an organisation's existing procedures and networks, meaning that minimal retraining of staff is required in order to get a comprehensive alarm system up and running whilst keeping the upgrade cost effective. Technology evolves at a rapid pace – by embracing recent developments, schools can nowadays easily bring themselves into the 21st century when it comes to improving safety and efficiency.