There are many scenarios that can occur within schools that can leave staff vulnerable and in need of help. The ANT Safety @ School solution provides assistance when it is required (whether it's in or out of school grounds), staff can trigger an alarm which will immediately notify their colleagues making sure they receive help quickly.
Click here to learn Everything You Need to Know About School Safety
Scenarios when assistance is necessary to ensure school safety
Teachers are subjected to physical or verbal abuse from pupils and parents
Incidents or accidents that happen on school trips
Pupils fighting each other or vandalising school property
Injuries to pupils whilst playing sport
Accidents such as slips, trips and falls that occur in remote areas of the school, in the evenings or early mornings
A school safety liaison officer visiting the home of a student who becomes violent
Unwanted intruders that enter the school premises
Solutions we can provide
When an incident threatens school safety, it can be difficult to deal with the incident at hand and summon help at the same time. With our Safety at School (S@S) solution it is possible to do both and give staff peace of mind that help is on its way.
How it works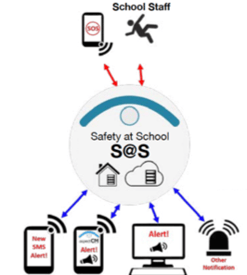 S@S is a full featured automated monitoring and alerting service for teachers, pupils and staff.
Alarms triggered by teachers using an alarm device or app are delivered to S@S by SMS text message, GPRS/3G/4G data or over a LAN/WAN IP connection.
Alarms are automatically processed, and alerts delivered directly to other teachers and staff on their smartphones, PC or tablets so that they can respond quickly.
Benefits of S@S
Cloud based, which means no hardware needs to be installed
Compatible with a range of alarm devices and apps, so you can choose what's right for you
Customisable, so we can tailor the solution to meet the needs of your staff
Cost effective, so you can protect your staff and your school within budget
Means for responders to 'listen in' to the situation, so your staff can respond accordingly
Full audit trail of each incident, to keep an accurate record of incidents