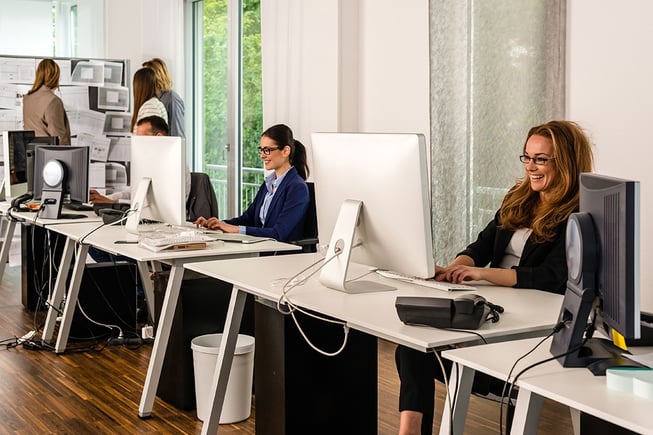 Business managers and office facilities directors in all parts of Buckinghamshire, Oxfordshire and Berkshire need to focus on their business telecoms provider from time to time. This is not because telecommunications provision is demanding of business leaders' time but because it is something that needs to be thought about strategically. Planned for well, business telecoms infrastructure will provide a stable platform for commercial development for years to come. Choose the wrong provider which installs equipment that is not capable of adapting to changing business needs and your enterprise can be hamstrung.
Therefore, managers should not feel the need to get too bogged down in the technical minutiae of modern telecommunications equipment, rather feel confident that they have chosen the right telecoms provider to handle their current and future needs. What are the key areas that any proposed telecommunications provider should be providing expertise in that will help established businesses, SMEs and start-ups to grow and be successful?
Defining Needs
Less well-established telecoms providers may not have the necessary know-how to accommodate all of the needs of a modern, growing British business. Ask your provider to help you define your current and future requirements to ensure they have the necessary expertise to help meet all demands. This means establishing the number of lines and extensions that might be needed down the line, as a first step. Other needs which may or may not be met by certain providers include data communications experience, the ability to provide remote working, knowing how to offer flexible call routing at busy periods and so on. Strategic judgements of how the telecommunications equipment you invest in can be upgraded or added to are important, so bottom these issues out with any supplier you might have under consideration.
Ask Yourself What Your Business Wants
Some telecommunications providers will install a phone system and a computer network but provide little else. For some types of business in the south-east and south Midlands, this might be all that is needed. However, for others, a maintenance package will be required, too, such as the ability to provide technical support or to send engineers to site at short notice. Does your business want to be able to buy a system that is off-the-peg which will be affordable but offer limited services or do you need something truly bespoke because of the way your commercial operations work? You will need to find a specialist telecommunications provider, if your company falls into the latter group.
Look Beyond the Sales Pitch
There is little doubt that many telecommunications providers offer business managers and owners a slick marketing experience which can make for a tempting offer. Nevertheless, it is important to see what the provider will be able to offer you post-sale, once the equipment has been installed and commissioned. A key area to discuss is customer services. Many telecommunications companies that install equipment will also offer service contracts to maintain equipment or service level agreements where they provide ongoing services, such as call billing platforms. Ask any proposed supplier to provide metrics from their current work in these areas so you can proceed with confidence that your business will be looked after efficiently down the line. Testimonials and customer service surveys are a good way of helping to generate an informed opinion and understanding what level of trust you should put in any supplier.
In addition to ongoing services, it is crucial to many SMEs to know that the equipment they are choosing to invest in is reliable. Much of the business telephone equipment sold and installed in the UK is made to be compatible with the British network services on offer. Nonetheless, a good number of the systems sold today are made by international brands which have been tried and tested in the field. Do some basic research into the model of phone system your supplier is recommending to ensure it will be reliable when in use. Another key factor in this area is when multiple systems are being linked to one another, such as one manufacturer's phone system with another manufacturer's voicemail product. Ask to see examples of the two systems working together successfully so you can be confident that your preferred option does not suffer from any compatibility glitches.
Financial Factors
Everything we have looked at so far are strategic factors that you ought to think about no matter what supplier you are looking to purchase from. With telecommunications equipment, it is even more crucial, however. This is because your telecommunications set up is absolutely fundamental to the day-to-day life of your business. If your customers cannot call you or you cannot send emails out because your connectivity is down for whatever reason, then your business is placed in a perilous situation.
As a result, it is highly desirable to find a telecoms provider which is established and that has the necessary financial stability to go on trading. If you are opting to rent lines or have a call billing package via your provider, then you need to be able to trust in their financial position so that the services will continue to function come what may. Of course, it is possible to switch providers if you find that the service is not what you thought it might be, but this takes time and will often lead to a detrimental customer service experience as you go through change. Much better, therefore, to take the time to select the right telecommunications provider, one with a sound financial footing, in the first place.
MD – Business telecoms is an essential service for most enterprises so choosing the right supplier which can meet all of your requirements is imperative.