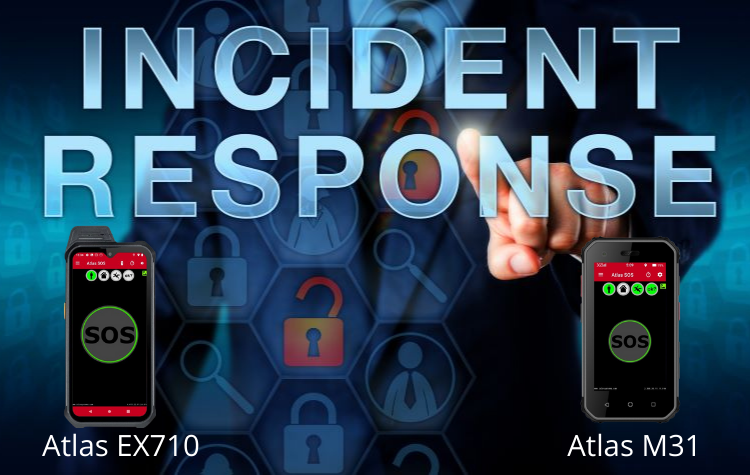 We've added more devices to our Atlas range and more apps to the Aspect Link Platform to help teams respond more easily and provide better protection for staff working alone. Below we outline some of the latest additions in more detail.
Atlas EX710
This versatile ATEX device combines a smartphone running Android 11, lone worker protection, optional PTT/PoC, with a large 6.3" display for all other business tasks. With its extra loud speaker it is also at home in noisy environments.
Physical SOS/PTT button
Includes Atlas SOS Lone Worker app
Man Down detection
GPS Positioning & Indoor positioning
Alert delivery over 2G, 3G, 4G/LTE & WiFi
IP 68 water resistance
3" Touch Screen Display
5MP Front and 24MP Rear camera
Weight: 310g
Ruggedised: MIL-STD-810H
ATEX

II 2 G Ex ib IIC T4 Gb Ip68
II 2 D Ex tb IIIC T120 Db Ip68

Atlas M31
The Atlas M31 is a smart micro device that provides extensive features in an extremely compact and rugged formfactor. Weighing only 108g, similar in height to a credit card, is easy to carry and with support for 2G/3G/4G & WiFi this device provides the best coverage for its users, even in harsh conditions.
Dedicated physical SOS button

True Man Down detection

GPS Positioning & indoor positioning

Alert delivery over 2G, 3G, 4G/LTE & Wifi

Delivery of alerts using SMS/Voice Call and/or Data

IP 65 water resistance

1" Touch Screen Display

Weight: 108g - Size: 98 x 52 x 16mm (w/o belt holster
Responding to and Managing Emergencies
Managing emergencies and responding to lone worker alarms is pretty straight forward when you have the tools to do it. Here we highlight two apps that can support your teams and help them to respond to lone worker alarms more easily.
Atlas Critical Messenger
Atlas CM delivers reliable messaging for smartphones without delay or confusion with other messaging platforms. It is intended for use in environments where it is critical that responders receive messages quickly and attracts their attention through visual and audible cues.
Atlas CM integrates with Aspect Link alarm management system to deliver reliable communication between users, assets, and responders. When alarms are activated, Atlas CM automatically displays in the foreground, attracting responder's attention through a persistent alarm sound, vibration, and visual cues. When a responder reacts to the alarm the persistent notification sound stops for all other associated responders. All actions taken throughout the active alarm are automatically communicated to all responders seamlessly.
Receive alerts directly. Respond in seconds
Keep all responders informed on progress
Persistent audio notification with vibration and visual cues
Scheduled automatic logon
Seamless fall-back to SMS if data is unavailable
Split-Screen shows Maps or Asset details and Alarm information
Manage Lone/Home Worker and Asset Alarms on a common platform
DND override ensures alarms won't be missed
Operates over GPRS, 3G, 4G/LTE, 5G & WiFi data
Eolas Messaging
Eolas messaging makes it easy for users to action important and emergency messages. Using the WEB portal, Eolas messages are sent to individuals or preconfigured groups and delivered directly to their smartphone screens in seconds.

Messages can be automatically displayed in large text and automatically read aloud to the recipients.

When mustering groups of people or when its crucial, you know your message has been seen and actioned, Eolas messaging delivers this in a simple to use solution.
Atlas CM extended feature
WEB Portal to manage messages
Message delivery within seconds
Automatically message display
Automatically read messages aloud
Large text format
Single tap to acknowledge
SMS message fallback
If you would like more information or a demonstration on any of the products discussed in this blog please get in touch. You can find all our contact details by clicking on the "contact us" button at the top right of this page.