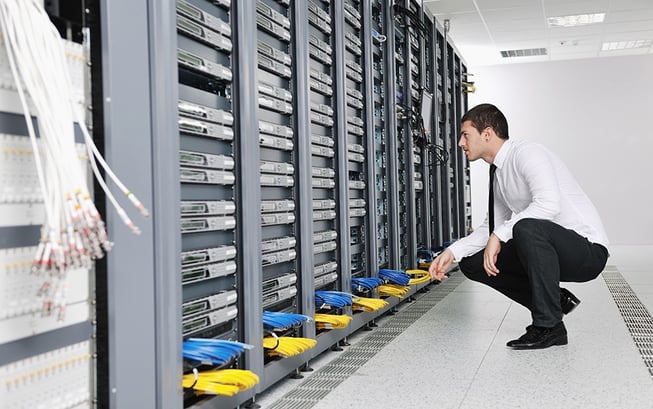 Growing businesses that need a fit communications system can find the choice bewildering. This article will help people upgrading or buying from scratch.
Phone systems for businesses have been around for some time. Before the advent of mobile telecommunications, commercial entities needed to rent their telephone connections (lines) from the General Post Office (GPO) and, in later times, from British Telecom (BT). Automatic switching systems were installed on the network so that people could call a number in any part of the country and the call would terminate at its desired location without the need for a telephony operator to put the call through.
Once this technology was fully developed by the big telecommunications companies in the middle of the twentieth century for the likes of BT, it began to be used on privately owned exchanges, too. Phones systems for businesses were known as private branch exchanges (PBXs) and were initially very expensive, used by large corporations only. As the cost of the technology dropped in the 1970s and 1980s, so small and medium enterprises of all kinds began to invest in PBXs. Why? The answer is that PBXs afford a great deal of functionality for businesses users. Furthermore, they save money by optimising the number of incoming lines and because all internal calls made between staff are free.
In today's business telephone market, the incentives for investing in modern PBX technology have not really changed. Business owners still buy or lease them as a cost-effective means of being able to communicate internally and externally. What has changed, however, is the degree of functionality that is now on offer even with relatively modest phone systems for businesses. Let's examine some of the more recent developments and cut through some of the industry jargon.
Digital and Analogue Lines
Old phone systems can be connected to analogue lines, just like the ones you find in most homes in the UK. PBXs tend to have a 'line module' which allows four, eight or twelve lines to be connected simultaneously. However, more recent PBXs will be capable of connecting to digital lines, too. Digital lines tend to be referred to as integrated services digital network (ISDN) and are rented as either ISDN2 or ISDN30, depending on the number of lines wanted. PBXs with ISDN modules produce crystal clear voice communications. They could also be used for creating larger bandwidth, ideal for connecting to the internet or video conferencing equipment, before broadband was more commonly adopted.
Internet Protocol PBXs
Many modern phone systems now make use of the same internet protocol (IP) communication layers that PCs, printers, tablets and other network gadgets do. This means being able to use your structured cabling network to plug your business IP phones in anywhere, or even use Wi-Fi for telephone calls, if wanted. A PBX which offers IP communications can provide a lot of functionality cost effectively, such as Computer Telephony Integration (CTI) applications that can show you who is calling on your computer and popup relevant database records ahead of answering a call. And because you can plug your IP phone in 'anywhere', it also means businesses can accommodate staff working from home or remote offices far more easily.
Cloud Based Telephony
In some cases, business owners choose to have their telephony services in the cloud rather than installing PBX hardware on their premises. Cloud telephony solutions can be good for growing agile business as they offer flexible packages to scale users up or down and staff working at home or in remote offices get the same functionality as those based in the head office.
Intelligent Voicemail Applications
Many years ago, out of hours calls and busy extensions used to be answered by answerphones which allowed people to leave messages. Traditionally, these would be picked up only when the company's receptionist listened to them the following day and jotted down a few notes to pass on to the relevant person. These days, digital recording technology means that every member of staff can have their own, personalised voicemail box. They can pick up their messages easily, even when they are out of the office. Furthermore, recorded messages can be forwarded to colleagues or shared with team members, where relevant. All of these functions make intelligent voicemail systems an important part of any modern PBX solution. They make the user experience for customers better and help businesses to ensure that they don't miss any vital information.
Call Monitoring
Maintaining checks on calls is not just for businesses like call centres where staff are on the phone for much of the day and their performance is measured by their time on calls. It can be important to monitor calls for all sorts of reasons. Call recording can provide a cost effective method to resolve contractual issues or disagreements by enabling an easy method of listening back to recorded calls if needed, at a later date. Some business models need to make improvements in the way calls are handled and use monitoring systems to help train staff more effectively.
Modern telephony solutions allow managers to keep up to date with their team members' telephone usage and provide key metrics, such as the number of calls fielded in a day from clients. A typical solution sold these days will also allow you to see at an instant who is on the phone at any given time, even if the user in question is not in the same building. This sort of live call monitoring makes it much easier to transfer calls to the correct destination and helps to increase collaboration between staff, especially teams that work remotely.
Overview
Remember that, when buying a new PBX, you may not need all of these functions immediately. However, you should consider your future requirements and think about investing in a system which allows for a degree of scope down the line.