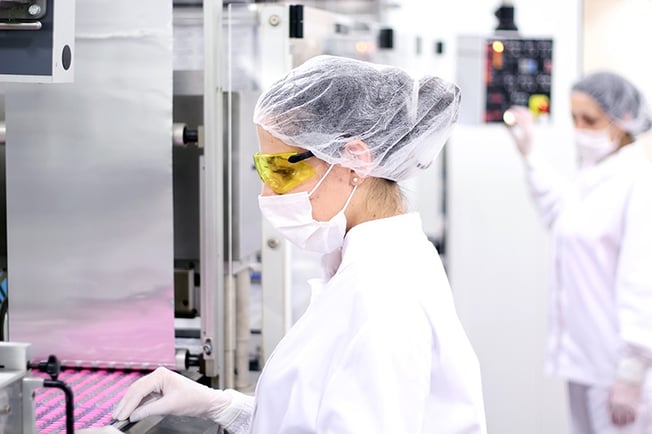 Lone worker safety is a key component in the successful operation for a range of businesses. Many businesses owners and safety managers now integrate lone worker safety devices into their health and safety plans. However, ensuring staff are utilising their devices can be a difficult. Any member of staff that is allocated a device should carry it with them at all times, be comfortable with its features and functions, and know how to trigger an alert if ever necessary. A number of issues can occur if workers fail to carry their devices or are not familiar with how their device operates.

Lone Worker Hazards in Different Workplaces
Lone workers can be found in a variety of different workplaces in various sectors. different sectors. Recognising lone workers and using the correct safety precautions is key to the prevention of work-related injuries. Here are some examples of different sectors that are often associated with lone workers, and common hazards staff can be exposed to.
The Manufacturing Industry
The manufacturing industry can present many hazards for lone workers, with staff often left unsupervised to operate dangerous machinery. Staff may also be susceptible to trips and falls or be injured by falling stock or moving parts. In addition to this, staff working in manufacturing plants can be exposed to a number of hazards, which can include high voltage electricity and dangerous chemicals. In this type of environment, it is crucial that lone workers have access to devices that allow them to easily call for help when needed.
Warehouses and Large Depots
Staff working in warehouses and large depots in remote locations are also presented with additional risks. These environments can be more prone to thefts, particularly at night. With most depots operating during night hours, lone workers can be left to deal with such incidences alone. In these situations, if a worker isn't equipped with a safety device and are attacked, it could be difficult for them to raise an alert for colleagues to come and assist them.
Schools and Educational Institutions
Employees in educational environments often work alone for long periods of time. Although a teacher, mentor, or other staff member may be working with around 20-30 children at a time, due to the nature of the role, they are still classified as lone workers. Educational staff are at risk of attack from pupils or students or may need to call for assistance if an incident or accident occurs in the classroom. It is essential that all staff in these environments have access to a safety device, in order to alert other staff members when in need of assistance.
Lone Worker Safety - Ensuring Staff Have Access to Safety Devices
Ensuring staff have access to safety devices is a necessary part of preventing accidents caused by lone worker hazards. This means employers, should make sure that every staff member that requires a device has access to one and carries it with them at work. The above examples are just a few of the hazards that lone workers face in the workplace. The examples illustrate the importance of staff being equipped and correctly trained with safety devices, and the need for a thorough safety plan.
Solutions to Ensure Health and Safety Protocol and Devices Are Correctly Implemented
There are many factors in a thorough safety plan that employers and safety managers should take into consideration. These include making sure all staff are aware of the procedure to follow in the event of an emergency. By doing so, they to help minimise the risk of work-related injuries or other safety incidents. This means conducting regular safety drills to test the efficiency of safety solutions and the knowledge of staff in regard to emergency procedures. When conducting drills, managers can measure the time taken to respond to an alert when a safety device is triggered, and how long staff take to reach the location of the incident to help the worker. By recording these results, companies can then work to improve the time taken to respond to alarms, to ensure that staff are fully competent if an emergency should occur. Some lone worker solutions also create an audit trail to make it easier for managers to review and assess where improvements can be made.
Devices to Suit Different Work Environments
Although all safety devices follow the same principal of allowing staff to alert, some devices may be better suited to one environment than another. For example, some workers will require a device that is discreet and will allow them to trigger an alert without being noticed. This type of device is particularly useful in an educational environment, or a in housing associations where employees are visiting clients at home. . Some companies may prefer to provide staff with integrated safety devices such as digital radios or apps that can be accessed from smartphones that allow users to trigger an alert. Integrated devices may be useful for staff that always carry a mobile handset with them, meaning they are likely to have it with them when they need it most. Alternatively, some lone workers may benefit more from a key fob device, particularly those that may not have access to their smartphones at all times.