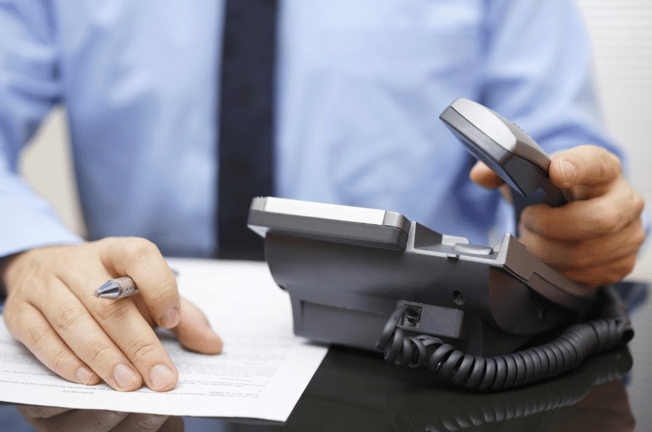 Are you currently considering installing a business phone service for your company? Or upgrading an existing service? There are many options available today, from large national corporations to local service providers. It can be overwhelming to make a choice when there are so many options available. However, as you're about to learn it's much better for you to choose a local business telephone service instead of a national one.

Here are 5 reasons why you should work with a local business telephone service.
Talk With A Consultant Instead of A Salesperson

Have you ever dealt with a "customer service rep" who is really just a salesperson? Rather than taking the time to listen to your situation and recommend a solution that suits your needs, they simply try to push you into choosing their most expensive phone package. They then spend the remainder of the time trying to upsell you on unnecessary options and services that you'll probably never use.
It's an unpleasant experience right? Unfortunately, this is what it's like to deal with a large national corporation nowadays. Instead of having your best interests at heart they are more concerned with getting the highest commission possible and squeezing you for every pound. This doesn't happen with a local business telephone service.
With a local service provider, you'll have the experience of talking with a consultant rather than a salesperson. They'll be your trusted advisor making sure to give you recommendations that will bring you the best possible result for your business.
Customise A Solution For Your Specific Needs

Following on from the previous point, a large corporation will rarely take the time to customise a solution for your specific needs. In fact, they would see it as a waste of time and an unnecessary business expense to do so.

Instead, they create set packages and their phone sales reps simply try to fit you into one of these packages, regardless if you need everything that is included in them. This leaves you in a situation where you may be overpaying for services you don't use, as well as having a phone system that doesn't exactly fit your requirements.

A local business telephone service will take into account your specific needs and tailor a solution for your business. They'll check for a raft of things such as your expected call volumes, what lines are in place, how mobile staff answer calls, hot-desking requirements, if you have more than one office and if your existing telecommunication equipment can work with their phone system.


Better Customer Service

It can be a nightmare dealing with customer service from a national corporation. Calling their freephone number, only to be answered by a robot. Punching through menu after menu, option after option only to be put on hold. When your call finally gets answered, you get transferred again!
If after all this, you actually speak to a real person, they will often have so little power to make any changes that your time spent on the phone will feel like it was wasted.

Avoid having to deal with such terrible customer service by working with a local business telephone service. With a local service, all the employees are directly connected to the owner, so it won't take long to get a problem resolved. This means all your enquiries will be taken seriously, and you won't be passed around endlessly to different departments without a resolution to your problem.


Get More Personalised Service

With a local business telephone service, having the owner nearby has its perks. This means that the owner will personally know his customers and the products and services you buy from him. Over time, he will know how to tailor his service to make your experience with the telephone service much better. For example, he could help you with implementing a school safety communication protocol.

Contrast that with a large corporation, who is distant both in location and in terms of a business relationship. They have no idea who you are as a business owner and person, and to them, you are just a number in their customer database.


Get Problems Fixed Right Away

Having your business telephone service running smoothly is vital for keeping your business running. You could lose customer orders and sales if your phone system goes down.
So, if your phone service is interrupted, you want to be able to get help quickly so that it can be back online as soon as possible.

Getting a large national corporation to act quickly to resolve your problems can become a disaster zone. There has been a publicised incident where a customer has spent over 6 weeks trying to get a problem resolved with a national phone service, and it took him going to their head office to get the problem fixed. Can you afford to have this happen with your business?

Working with a local phone service ensures your problems are taken seriously immediately. You won't have to go to a head office to get a problem resolved since they are already local to your area.

As you can see, there are many more benefits to choosing a local provider than just the convenience of location. You will get better customer service, personalised service and your problems will get resolved right away. Consider working with a local business telephone company when choosing your business phone service.