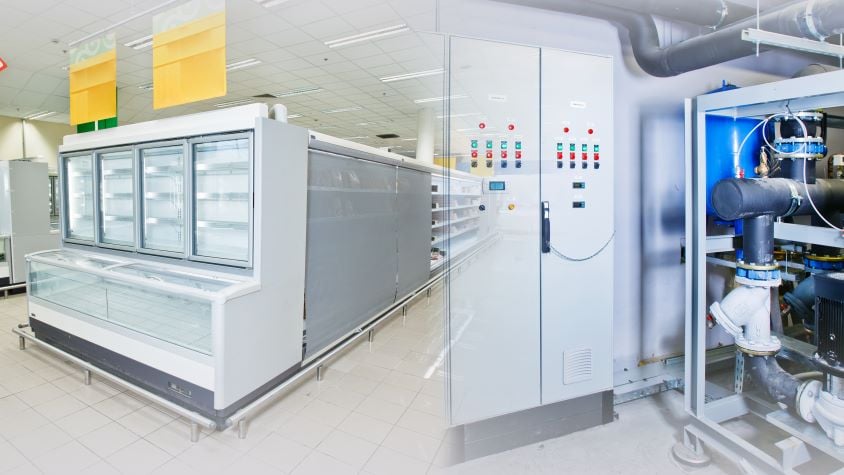 Storing food at the correct temperature is crucial for food companies. Food poisoning bacteria generally becomes inactive in the cold, and most are killed by heat. Controlling the temperature of food is a very effective way of controlling the growth of bacteria, and so reducing the risk of food poisoning.
Fridges should operate between 1°C to 5°C and no higher than 8°C. Freezers keep food for longer and so must operate below -18°C. If these conditions aren't met because the appliance has a fault, for instance, and the food rises to a higher temperature for a sustained period of time (approx. 4 hours) then it must be thrown away.
To ensure food produce is safe to eat, companies must check and record the temperature of their fridges and freezers daily to ensure that they are working correctly and to comply with safety standards HACCP. This is a really important safety measure, however, it's also a burden when there are so many other important activities that must be undertaken as well.
Our Automated Monitoring Solution using IoT Sensors can help food companies by automating the process. Not only does this help to free up valuable resource, it provides 100% accurate and reliable real-time data 24/7 helping you to reduce costs and save you money.
In this blog we explain how our solution works and how it can help you to comply with HACCP.
Temperature Monitoring
Using sensor technology is not new but a lot of sensors are hardwired which makes them difficult and expensive to install. Also cables may need to be fed through seals in fridge doors which isn't ideal and can leave a gap to let cold air out and warm air in, affecting the temperature of the appliance and the contents within.
Wireless sensors are far easier to install but require connectivity. 2G, 3G, 4G and WiFi sensors aren't usually suitable as batteries don't last long and many commercial fridges and freezers are like metal boxes that mobile signals don't penetrate inside.
Wireless LoRaWAN Temperature Sensors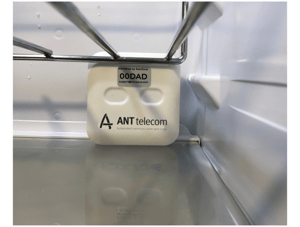 Our wireless sensors use state of the art LoRaWAN technology. These low powered, long range sensors makes them perfect for measuring Fridge/Freezer temperatures as data can be transmitted up to 12KM away (direct line of sight). With such a long range, the radio waves can permeate through the seals in the appliances making it possible to cover large sites with a small number of 4G/LAN gateways that upload the data to our secure and online portal. Batteries can last up to 10 years before replacing.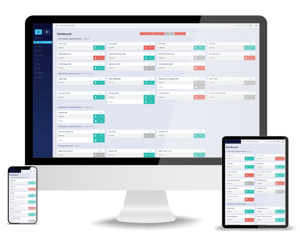 Online Portal
Data from the sensors is received and loaded to our secure online portal that registered users can access from any web browser on their PC, laptop, and smartphone.
The application is really easy to use and provides a dashboard so that you can see the temperature of all your appliances centrally and in real time. You can label each sensor as you wish but also can load site maps or images to match the sensors to the relevant appliance to help distinguish one from another.
You can also see historic information displayed in a chart showing how temperatures vary throughout the day, week and month that can draw your attention to anything unexpected or out of the ordinary that could affect food quality or safety.
Threshold Breaches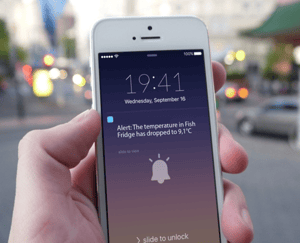 Temperature thresholds can be set to notify staff if there is an issue that needs to be investigated. So for instance, you may wish to know if your freezer drops below –18°C for more than 5 mins as this could indicate a fault with the appliance and affect food quality and safety.
An early warning will help you to move the contents to another freezer to avoid food being thrown away unnecessarily and the huge expense of replacing all the contents. Furthermore, the online data collected by the sensor will provide 100% proof and peace of mind that any food moved is still safe to eat.
Auto-Generated Reports
With data stored automatically and in a report format, you'll no longer have to create paper-based records and manually input data to generate weekly/monthly reports for auditing and compliance purposes.
Scalability
The solution is very scalable making it possible to start with a small number of sensors and add as you see fit. It is also possible to monitor other conditions such as power (on/off) and energy usage of your appliances, or how often the fridge door is opened.
Monitoring energy for instance can help you reduce your energy bills as a poorly functioning unit can consume 100% more energy than a well maintained unit.
Conclusion
Manually monitoring and recording the temperature of your fridges and freezers for quality, safety and compliance can be very time consuming and isn't always accurate and reliable.
Our IoT monitoring solution using state of the art LoRaWAN sensors is far more reliable and cost effective. Continual monitoring will provide you with insight on how temperature can vary and help you to improve food quality. Early warning of temperature breaches will help you to move food, reducing waste and costs. Furthermore, auto-generated reports will help you to fulfil your compliance obligations (HACCP) efficiently.
If you would like more information or a demonstration on Temperature Monitoring Solution please get in touch. You can find all our contact details by clicking on the "contact us" button at the top right of this page.