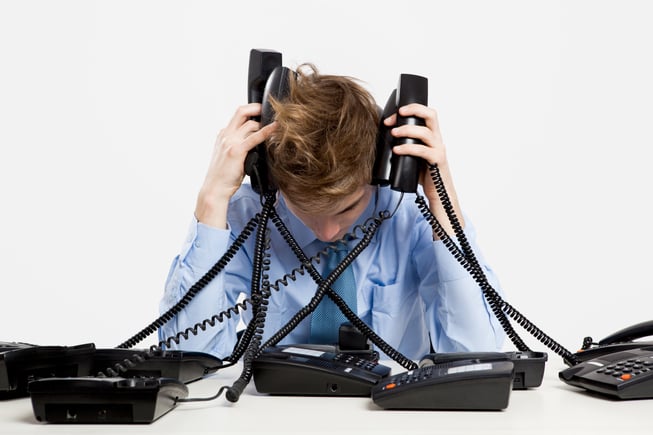 Handling your incoming calls well means being able to prioritise those vital conversations with key clients whilst still dealing with general enquiries properly.

Businesses all over Buckinghamshire, Oxfordshire and Berkshire deal with a plethora of calls each day. Some of these are of crucial importance to businesses. Perhaps a call might be from a supplier arranging the delivery of a key component you need. There again, an inbound phone call might be from a big customer who is ready to place an order. You need to make sure that theses business critical calls are answered properly and promptly so that your clients don't simply head elsewhere.

In addition to these sort of high-level calls, all sorts of enterprises generate inbound calls which are of less importance. Some may be general enquiries which never lead to sales. Others might be from unwanted callers who are merely trying to sell your business a service that it does not require. High or low level, all calls need to be answered and responded to appropriately. The key to the better management of incoming calls is to have the right technology in place and a business partner that can help you to handle them in the most appropriate manner.
Call Routing
Some business phone systems (PBXs) have a mainline number which rings at the reception desk where it is answered and forwarded on. Although this traditional model works well for some sorts of company, it can lead to inefficiencies. Even highly skilled telephonists can only handle four or five calls at a time. What if more come in or the receptionist cannot find the extension that is needed rapidly?

These days, it is increasingly common to see calls routed directlyto a department or individual. For example, you might have your customer service number set up to call a ring group of six or seven extensions simultaneously so your team can answer enquiries quickly. There again, you might set up a sales hotline so calls are distributed evenly, one extension after the other, among your sales team so all your reps get a fair crack of the whip with new leads. Or you could simply have calls routed to employees' phones directly using their Direct Dial Inward number (DDI). Modern PBXs can be programmed in a variety of ways which means that callers don't need to be transferred from reception with all the waiting that entails.


See Who is Available
A modern business phone service should assist you in tracking down the right people. A key telephone system will usually do this by lighting up extensions that are busy, or already ringing, on a keypad. This can be ideal if you have something like 20 to 30 extensions. However, for larger organisations large numbers of keys on every phone attached to the system are impractical. In such cases, integrated telephony software can be the answer.

With services like Microsoft's Skype for Business, which can integrate perfectly well with many PBXs these days, it is possible to search for employees on the system by their name or department when tracking down an individual to see if you can transfer a call through to that person or not. It will show you in a click or two of a mouse if the person is available on their phone or in a meeting. You can offer the caller the chance to leave a voicemail or to speak to somebody else in the department if the person they had asked for happens to be unavailable at that precise moment Therefore, ensuring calls are handled more effectively.
Redirecting Calls
There are times when you need to be able to redirect callers using the flexibility of a PBX. Just like setting an 'out of office' notification for emails, modern PBXs can route direct dial calls to a colleague or ring group if someone happens to be away, for example when they are on annual leave. Integrated software packages will even be able to do this sort of function intelligently for themselves, so long as they are able to gain access to an individual member of staff's computerised calendar.

At busy times, you might need an overflow system to operate, perhaps at a particular time of year when sales lines are busy. In such cases, the ring group might be expanded so that more extensions for temporary staff are made available. Alternatively, you might set the ring group so that it trips over to another department if all the extensions are busy to either deal with the enquiry or to take details so they can be called back at a less busy time. It would also be possible to hold callers in a queue until the next member of the team was available. Those waiting could hear voice announcements making them aware of the waiting time and the option for a call back should they prefer. All of this means getting calls answered in a timeframe that is acceptable to customers and reduces the length of time that they are put on hold or in a queue without any useful updates.