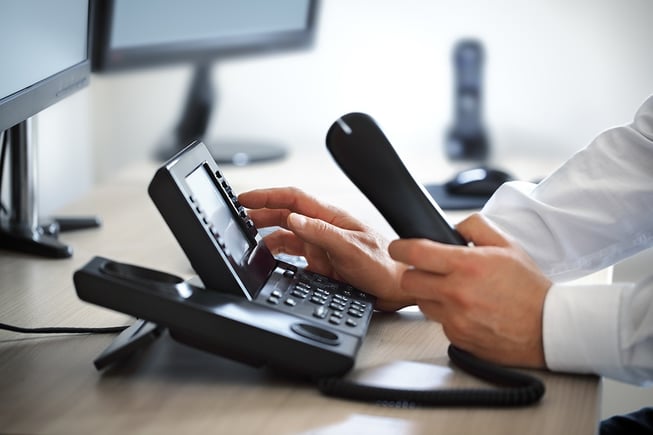 When thinking about the factors in favour of VoIP communications, it is also important to weigh up its limitations as a technology.
Businesses all over southern England are increasingly turning to more sophisticated telephony to improve their flexibility for customers and to accommodate modern working practices. This can be particularly attractive for multi-site businesses which have locations across Oxfordshire, Buckinghamshire and Berkshire, for example. Unless you have a workforce that operates only from a single site and you can reasonably predict where any member of staff will happen to be, it is worth looking into modern telephony solutions. This is because they will help you to route calls to individuals regardless of where they are working.

For many enterprises, this means considering the merits of voice over internet protocol (VoIP) telecommunications. Implementing IP telephony may seem attractive but are there downsides to go alongside the discernible benefits?
What is VoIP?
Before we look at how businesses in the south east and southern Midlands might benefit from VoIP, it is worth examining the technology briefly. Essentially, VoIP breaks audio down into l IP 'packets' of data. Just like the data communications going over your local area network (LAN), these packets of information are then distributed over the network. The recipient device captures these and reassembles the packets. In the case of VoIP, this means putting together all of the packets of data so that continuous audio can be heard, thereby providing the basis for a phone call.
Pro VoIP Considerations
With VoIP telephony, you get enhanced services that traditional business telephone systems cannot always provide. One of the benefits of VoIP is that you can provide instant messaging applications that enable teams (that are on the go) to collaborate quickly. . Also with VoIP, calls can be routed to a PC, laptop or tablet and you can use your screen to watch a presentation or view new product ideas, for example. By installing a headset and softphone you can dispense with your desktop phone altogether and use your PC instead.

VoIP calls are a means of allowing greater flexibility in the workplace. Homeworking becomes a much more viable possibility with this sort of technology. Employees can utilise their home broadband connections to connect to the business telephone system remotely, allowing them to stay on their usual direct dial number and extensions. This is much better than relying on mobile phones which are basically stand alone devices with few business functions. Furthermore, they are sometimes susceptible to poor reception, especially in rural locations.

Another of the many benefits of VoIP worth bearing in mind is that you can use telephony equipment in a totally portable way. Consider your business handset, for instance. As it has a network address, you can plug it in anywhere in your office and it will be found. Want to work at a satellite office via a virtual private network connection to headquarters? No problem, the phone system will find you moments after you plug in and log on – it is all taken care of by the network.

Indeed, because your IP telephony devices are controlled in the same manner as your other network equipment, it becomes simpler to use them from an IT administration point of view. This is ideal if you want to set up a new office from scratch, for instance. You can do so without installing any traditional business phone system at all.

Lastly, it is important to remember that VoIP calls are no more complex for users to operate than any other form of telecommunications. The medium by which the service is delivered is completely different from conventional telephony, to be sure. However, from a user's perspective, everything remains very similar to operate. You still ring people's telephone numbers when calling externally. You can still use extensions numbers when calling internally, too.
Downsides to VoIP
In the con column, it must be said that VoIP is only really suitable for businesses which have networks that support this sort of telephony. This means having a structured cabling network in place, for example, something that not all SMEs do.
In some cases, where the bandwidth is not sufficient for multiple VoIP calls to take place simultaneously, then the audio quality can drop. Digitised speech is rarely – if ever – a problem with conventional digital lines, such as ISDN, where you can expect crystal clear speech paths. If a network is pushed, however, something has to give and this can result in drops in audio quality.
There is another issue which arises with VoIP in that if the network fails you potentially lose both email and voice services. Whereas before, if the PBX system or data network failed it would have no impact on the other. Therefore, by adopting a single network the business loses a bit of redundancy.
Finally, it is noteworthy that VoIP communications cannot provide every sort of service that you might be used to from your current telephony set up. For example, certain security services which connect your office to a third-party surveillance company may not work over VoIP and might need a conventional analogue phone line to function. As such, a good number of enterprises that opt for VoIP communications do so as an add-on to their existing telephony system, thereby gaining the additional benefits outlined above whilst not completely replacing their current set up.