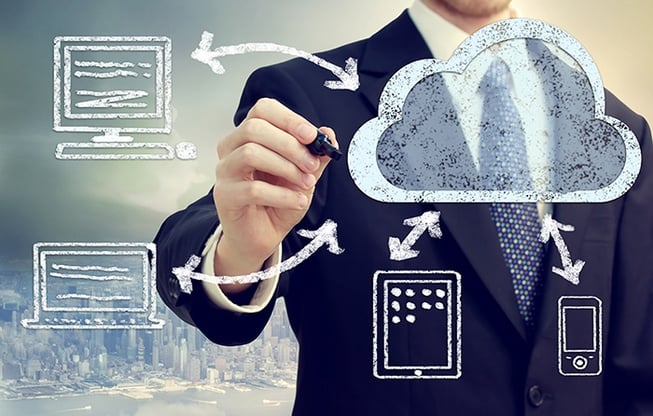 Office-based business all over Buckinghamshire, Oxfordshire and Berkshire are discovering the benefits of cloud based telephony. What do you need to know?
Like data communications that are hosted over the internet, opting for a cloud based telephone network means you are likely to save your business money in the long term. Most small and medium enterprises (SMEs) in the south east and south Midlands have traditionally invested in a private branch exchange (PBX) to handle their voice communications. This often means purchasing or leasing a business telephone system with a combination of proprietary extensions for keyphones, which provide additional functions, and analogue extensions, which are used for simple jobs, such as providing a fax machine connection.

Unlike some l PBX systems, however, cloud based telecommunications are able to provide each user on the system with the same level of services. Users can all place multiple calls on hold, when needed, set up conference calls and even perform trunk-to-trunk transfers via the cloud. Some provide video services, too. The old distinctions between keyphones and analogue extensions disappear in the cloud. You don't need to shell out for eight additional proprietary extensions at a time by buying a new PBX module. Subscribers to a cloud based system can be added or removed as and when they are needed, reducing costs in the long-term.
The Key Benefits of Cloud Based Telephony
In addition to the level of functionality all users get when they start using a cloud based system, there are benefits your customers and clients will notice. For any business that allows staff members to work from home or have employees who are based in the field during their normal working day, cloud telephony means being able to track their availability, thereby helping callers to get to the person they need to speak to more quickly. For example, some cloud based business providers will allow you to search for team members by their name and see whether they are at their desk, ready to receive a call, engaged on a call or in the field and only available on their mobile phone. This is great for any SME which needs to improve collaboration between staff or that wants to have agile working practices in place.

Moving premises is also far easier with a cloud based solution as there isn't a telephone system that needs moving and setting up on the new site, which normally requires and reasonable amount of planning. With cloud, however, providing the network is setup - users will only need to bring across and plug in their SIP Phones, which should be far easier to manage.
Are There Problems With Cloud Telephony?
Making the switch from a traditional PBX to a cloud based system may result in an increase in ongoing operational costs. However, if your current PBX needs to be upgraded, then the further costs associated with a cloud based telecommunications system is not that great. Furthermore, because so many businesses are upgrading their broadband connections to fibre anyway, one of the major infrastructure needs is already taken care of. In other words, if you are using data communications extensively already, then cloud telephony can be easily piggy-backed on.

When working remotely, cloud service providing voice and video communications will only run as fast as the broadband connection the remote user has. In some rural locations, slow data transfer rates may limit the use of this type of service. In addition, laptop PCs which are used to run the sort of client software needed to make this sort of telephony work will need to be of a certain standard, especially if they are tasked with doing other jobs simultaneously with running phone services. You might need to upgrade some of your computer terminals, especially those with insufficient random access memory (RAM) or simply purchase SIP phones.

Despite these minor limitations, cloud based telecommunications constitutes a good alternative to on-premise telephony systems. If you are looking for a new solution, we would recommend that you investigate both cloud and modern IP phone systems, so that you get a good understanding of what would be the best for your business.