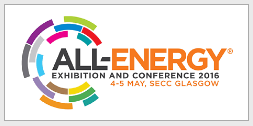 On the 4th and 5th May, ANT Telecom will be exhibiting at the All-Energy Exhibition and Conference 2016 in Glasgow, showcasing its telecom solutions to the renewables industry.
All-Energy is the UK's largest renewable energy event bringing together the entire spectrum of buyers from the bioenergy, solar, offshore and onshore wind and wave tidal sectors. The conference and exhibition provides industry suppliers the opportunity to connect with new customers and expand their knowledge of the fast-changing marketplace and this is ANT Telecom's second year attending.
With many of the companies attending operating in isolated and extreme environments, having an effective communication system in place is vital. It increases efficiency across an expansive site and above all provides effective communication that is required for the safety of workers day to day but also in the case of an accident or emergency. Often, organisations are also working on sites that lack reliable mobile coverage making emergency communication impossible. In the challenging environment this could result in an injured employee unable to call for assistance or be contacted, putting both the employee and business at risk.
In addition, since the 1st of February the UK has seen the introduction of the new Sentencing Guidelines for health and safety offences, which will overhaul the current policies. The most prominent change is that the range of financial penalties available to courts has been increased, especially in the case of magistrates' courts. This means organisations are financially at risk if they are not putting suitable emergency responses in place.
All-Energy allows key decision makers to speak with experts and explore the challenges facing the unique and rapidly changing industry. Alongside over 450 exhibitors, ANT Telecom will showcase its advanced solutions specifically tailored to create a safe workplace and ensure the quickest and most reliable action in an emergency situation.
To find out more, visit us at Stand F50 or arrange a meeting with one of the team by contacting: info@anttele.com
ANT Telecom is a committed to a consultative approach and will be available to work closely with you to understand your unique business requirements and discuss the best-fit solution for your existing infrastructure and budget.