ANT Telecom as a reseller and system integrator with its own development program is in the unique position to provide customised solutions based on proven and successful products.
We therefore have a competitive edge over traditional resellers, system integrators and even manufacturers as the company combines all disciplines to provide tailor-made turnkey solutions.
ANT Telecom focus on niche market segments in various industries, where tailored solutions are required. Where others fail, ANT Telecom has the ability to cost-effectively develop specific solutions to meet customers' expectations.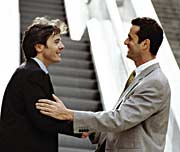 Once solutions are implemented we develop our customer base capitalising on newly-gained credibility towards our products and services.
We always strives to exceed our customers' expectations in order to improve satisfaction, and therefore increases the loyalty towards our company, the products and solutions we sell. We believe that in the long-term this will ensure that our customers will remain our customers, thus helping ANT Telecom to prosper.