Remote control:
empowering the
mobile workforce
Chris Potts, Marketing Director, ANT Telecom, explores how videoconferencing can help organisations meet their strategic objectives in a changing business environment.
The rapid increase in remote working continues to shape the business landscape. As technological advances provide innovative new ways to connect and support an increasingly mobile workforce, the trend towards homeworking is gathering pace. In England and Wales alone, more than 10% of people now work remotely. Business leaders predict that in the next decade over half of all employees will work from home. This developing trend, along with the proliferation of mobile, social and digital media providing instant communication opportunities, has become a catalyst for an increased uptake in leading-edge videoconferencing technologies as companies seek new ways to optimise their mobile workforce.
Videoconferencing is emerging as a highly valuable channel of business communication. Once regarded as a luxury reserved for senior management and requiring expensive, high-end videoconferencing suites, developments in technology are making communication via video accessible to employees throughout any organisation – irrespective of their location.
The advent of tools such as unified communications and converged networks is helping businesses ensure that remote workers remain connected and engaged. Furthermore, they are providing employers with the ability to combine applications, make information accessible and integrate data from remote and disparate systems over a single network. This has extended the capabilities of videoconferencing, enabling businesses to facilitate faster, more reliable and more efficient communications – and empowering remote workers with increased accessibility to real-time information and colleague dialogue.
Videoconferencing technology also brings with it multimedia opportunities that allow employees to work collaboratively. Integrated Interactive Whiteboards allow participants to share, edit and approve electronic documents during the course of a live call, increasing productivity and accelerating the speed to market of key projects.
Moreover, in an increasingly mobile world, videoconferencing is securely available via a standard desktop from anywhere on any network and on any device.
The benefits of videoconferencing translate across every business sector. In healthcare, for example, surgeons are able to receive advice and support – during surgery – from external consultants via a video feed. And likewise, hospitals are able to broadcast best-practice surgical techniques to train and develop staff.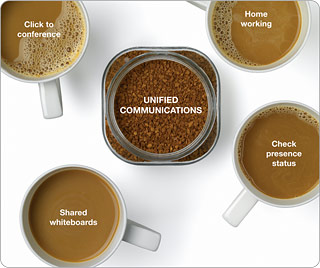 Equally, in manufacturing environments, design teams can support manufacturing plants during the production process, reducing inefficiencies and accelerating quality control and speed to market.
Videoconferencing can also improve performance across all organisational departments; sales, marketing, HR, training, customer service and strategic management. For example, in recruitment, recruiters are able to have more 'face-to-face' interviews in one day – maximising time, improving scheduling, allowing remote stakeholders to participate in interviews and, ultimately, speeding up the recruitment process. Moreover, the technology enables businesses with mobile workforces – and where, for example, sales teams may be geographically spread out – to communicate more effectively, improving connectivity and team morale.
Crucially, the evolution of videoconferencing has seen it journey from being considered an expensive luxury to a solution that can help deliver significant cost-savings. Proactive companies are discovering that they can reduce costly and time-consuming travel by setting up virtual meetings – not only increasing internal productivity, but also having similar benefits for busy customers. Likewise, implementation costs – once considered prohibitive – have dropped dramatically; the ability to deliver integrated video across any device – via a simple 'click-to-call' function from the desktop – means that entry-level costs are now low, accessibility is almost universal and usability is simple. This improvement in functionality means that technical 'user' difficulties that plagued the early introduction of videoconferencing – potentially damaging customer relationships and increasing costs – have long been eradicated.
As businesses strive to contain costs, reduce inefficiencies and increase productivity, videoconferencing is providing new – and cost-effective – opportunities for companies to deliver more agile, flexible and responsive communications among an increasingly mobile workforce. And, in a global economy where business prospects can live anywhere in the world, videoconferencing is providing a powerful way to build customer relationships at the touch of a button. It's putting companies in remote control.