A match made in heaven:
VoIP and security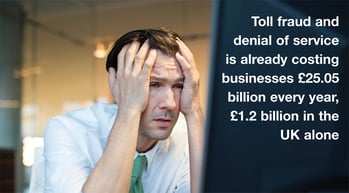 In 2015 BT announced its plans to phase out ISDN by the target year of 2025. In light of this proposal, and the obvious cost benefits, SIP is experiencing a mass migration with the market value expected to increase from USD 83 billion in 2015 to 140 billion in 2021.
However, as exhibited in the constant stream of cyber attack news, most recently the Panama Papers, with good technology comes the threat of a hack. In fact, toll fraud and denial of service is already costing businesses £25.05 billion every year globally - £1.2 billion in the UK alone. Despite this, many SIP trunk providers are ignoring the threat and putting their customers at risk by selling the solution without the necessary security.
Typically, SIP trunk providers sell the solution on a monthly rental model that keeps costs at a minimum and ensures quick return on investment. Unfortunately, the traditional security offering of a hardware Session Border Controller (SBC) doesn't match this and requires a hefty upfront cost (approx. £1,000) that detracts from the sale. Therefore, vendors either risk losing a sale or simply avoid the security discussion and sell SIP with inherent vulnerabilities.
So how do customers and vendors get around this? For SIP users, it's undeniable that there needs to be security in place. Fortunately, new developments in cloud based security means that a freemium voice firewall can be downloaded and installed to provide businesses with the foundation for secure SIP.
For the vendor, it allows them to establish and maintain a trusted partnership with customers, based on best practice and dependable products. The SIP offering can be sold as a bundled package with the security included in the monthly cost. This ensures the best products are being provided without undermining the customer benefits with infrastructure costs or allowing them to risk a reputation or financial loss.
Our recent partnership with VoipSec, a cloud-based voice security solution provider, means our SIP trunk offering ensures our customers' businesses are protected without the need to make significant upfront spending on hardware.
To speak to one of our experts please call us on 01494 833100 or email
info@anttele.com