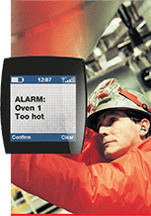 International food manufacturer benefits from site-wide communication solution with alarm messaging
Communication is key. In FMCG, for example, communication sits at the centre of most business processes ' from product marketing and brand management; throughout the supply chain; to operational efficiency within the production process.
Effective communication solutions cannot only help maintain high production standards and volumes, but become equally important in ensuring compliance with health & safety standards with regard to lone workers. And this is no more true than for one of the world's largest food manufacturers.
Communications requirements
This world leading, global food manufacturer has worked with ANT Telecom to not only address the health & safety needs of its lone workers but also increase business communication and prevent costly production downtime across its two UK sites. The organisation initially used an analogue paging system supplied and maintained by ANT Telecom - to notify the relevant response teams when alerts were raised on the production line. The system also provided two-way speech and lone worker protection features utilised by engineering and maintenance teams who often worked on their own in potentially hazardous areas of the site.
Niall Roberts, area sales manager, ANT Telecom, comments, 'Overall the analogue solution was very reliable and fulfilled all of the health & safety and voice communications requirements, but it was unnecessarily operating alongside two different lone worker systems and two additional radio solutions, restricting communication to within each department.'
This analogue radio solution served its purpose for over 15 years but due to major building works being carried out on the site the coverage of the original system was severely effected. A solution to this issue was required.

Digital revolution
The new building was a driver for the manufacturer to seek an upgraded solution that was both suitable for use in the new building and would provide both effective communication and lone worker functionality. It also provided an opportunity to integrate all the existing systems and consolidate them on a single platform. Roberts comments, "Due to the manufacturer's specific requirements and its need to be able to use the communication equipment within the new steel cladded building,
ANT Telecom presented two solutions: extending the existing analogue system which would mean more infrastructure, more equipment, and more hardware, or – our preferred option - upgrading to a digital system which required less infrastructure and hardware to achieve site wide coverage.
"The manufacturer decided to go with the proposed digital system, giving the benefit of one supplier, one maintenance provider, and one system as opposed to five different solutions, reducing hardware and thus points of failure. Furthermore, from an operational perspective, a fully integrated solution can help plant managers become more responsive to problems in the production line, improving organisational slickness."
Alarm messaging advantages
The manufacturer's primary aim in replacing the paging solution was to provide users with greater flexibility as to how they receive and process alarms in any location on site. The new bespoke solution went live at two of the manufacturer's UK sites at the end of 2013 and has the benefit of allowing users to receive alarms on their preferred device, for example via email, smartphone, mobile or radio handset rather than being restricted to a propriety device.
A further benefit of implementing a digital mobile radio solution includes improved site wide and interdepartmental communication. And, moving forward, the system will enable the integration of additional resilience and disaster recovery functionality, further strengthening the manufacturer's organisational communication and reducing risk of production down time.
Roberts concludes, 'Here at ANT, we believe that in order to provide the best communication solution it is critical to engage a client's users as well as considering the overall business needs. Our consultative approach with this particular client enabled us to identify whether a single centralised solution would indeed meet all users' requirements. But more than that, it has helped the organisation achieve a single, cohesive communication solution that offers significant financial savings and operational benefits, is flexible and provides for future communications requirements.'