Eurotunnel moves to open-channel digital radio communications with ANT Telecom


ANT Telecom supports phased approach to replacing analogue with digital radios, ensuring Eurotunnel benefits from latest technology while maximising longevity of existing investment.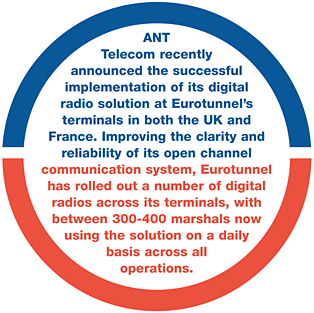 The project is part of Eurotunnel's wider corporate migration to a digital communication strategy. ANT's solution phases the introduction of digital radios that are also interoperable with its current analogue system, allowing the company to maximise the benefits of both the new technology and its existing infrastructure.
ANT Telecom was chosen by Eurotunnel to replace its previous analogue open channel system at its UK site based in Folkestone, with a Hytera digital radio solution early last year. The system's infrastructure consists of two repeaters to provide four channels in total, which are used by four different groups; tourist, HGV1, HGV2 and motorway, allowing communication between the teams and control centre. A radio dispatcher who controls the two repeaters can open an emergency channel if required to contact all groups.
The additional features that digital radios offer over analogue radios provide Eurotunnel with greater flexibility when configuring systems and enable different departments to utilise different channels. Additionally, emergency functionality means that alarms can be generated if help is needed, which was a key component for the company to have.
Richard Howkins, Telecommunications and Control Systems services UK Team Leader at Eurotunnel, comments,
"Our work with ANT Telecom has been a highly successful endeavour. At the time we started working with them, it was the first time we'd actually put a new open channel system into our Folkestone site for quite a while. ANT's ability to provide us with a bespoke solution has become a valuable part of our long-term plans to move all of our communications from analogue to digital."
"We selected ANT Telecom because of the specification of the devices provided, specifically the high IP level, IP67 and multi lines display. Furthermore, the solution appealed to us because of the emergency call functionality and the possibility to upgrade the system if needed in future, particularly the GPS localisation, trunk mode and man-down alarm functionality."
"The feedback from our employees using the digital radios has been extremely positive. The digital radios are proving to be easier to use and are more robust. Furthermore, the life span of the batteries is greatly improved and staff are feeling confident when using them, which is important."
Klaus Allion, Managing Director at ANT Telecom adds, "Our work with Eurotunnel has been a true testament to the consultancy approach we take to our customers in ensuring we provide a solution that is suited to their specific requirements. We have worked closely with Eurotunnel on gradually phasing digital radios in rather than replacing all of its analogue radios at once, and have ensured that we have supported the project at every stage of the implementation."
"Both we and Hytera are extremely pleased to be working with Eurotunnel to deliver an on-site communications solution that will meet their unique business requirements and deliver on-going benefits into the future."
ANT Telecom is in the process of trialling new robust slim line Hytera radios with Eurotunnel staff, as well as Bluetooth handsets and Push to Talk buttons with bus and train drivers, which remove all wires and enables them to talk hands free.