ANT Telecom develops
digital mobile radio (DMR)
solution to be integrated with all telephone systems
ANT Telecom, the provider of bespoke communications solutions, has announced it now offers a digital mobile radio (DMR) solution that can be integrated with virtually all telephone systems. The new DMR offering can be used by both public sector organisations, such as within the NHS, and also private sector organisations.
The new technology includes a radio module and allows radio and office telephone users to contact each other directly. Chris Potts, Marketing Director, ANT Telecom, "Some organisation might not want to or be able to provide all staff with both radio and mobile phones devices to allow for internal calls to be made. A DMR radio that also has the capabilities of allowing internal communication between radio users and desktop phone users is a great means of providing companywide communication."
Potts continues, "Quite often employees will need to communicate with colleagues who have access to only one method of communication, be it radio or telephone. The radio module allows for users to communicate effectively using just the one device."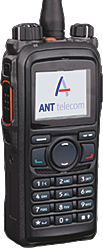 As part of continued development and business growth, ANT Telecom is also improving its DMR portfolio of applications, including lone worker, alarm integration and incorporating Near Field Communication (NFC).
Potts concludes, "We continue to aim to offer our customers the best possible technology available that is right for both the business and the user. We offer an individually tailored service to ensure ou r clients are best equipped to operate within their particular business situation."