HT Marine Series 2.0 - superseding the multi award-winning HT series 1.0 is a challenging task considering its success with fire brigades, petrochem, shipping and major blue chip organizations worldwide. Version 2.0 builds upon this success with a wider range of models to suit every application from simple to advanced. Built to last, the HT Series 2.0 is designed to endure the every day rigours of life at sea.
Commercial Grade Construction - exceeding MIL STD 810C/D/E/F rating for tough enduring performance the HT Series 2.0 is designed to withstand shock, vibration, dust and moisture, ensuring many years of trouble free use in the most hostile environments.
Superior Audio Quality - the HT series 2.0 delivers loud, crisp audio using the latest compander noise reduction technology no matter what environment you are in.
Intelligent Lithium-Ion Battery With Built In Charge Cycle Monitoring - this very latest technology gives you four essential advantages:
1) For your convenience the HT Series 2.0 will count charge cycles of your battery pack, warning you when it is nearing the end of its life. Models equipped with an LCD will also display the battery charge count.
2) Extended duty cycle.
3) Not prone to the dreaded memory effect that Nicad and Ni-MH battery packs suffer from, therefore no need to fully discharge your battery pack before charging.
4) Stores a charge up to three times longer than a Nicad battery.
Submersible – conforming to European IP68, the HT Series 2.0 offers the highest submersibility rating of any manufacturer. This unique series protects against corrosion, withstanding total immersion in water to a depth of 5 metres for 1 hour to protect against the likely hazards encountered in any field of operation.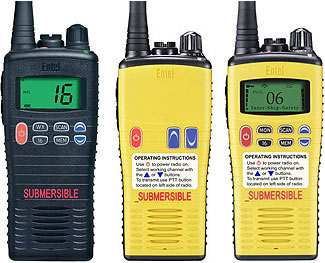 USTC Approved - for outside EU and EFTA countries the HT series also offers a complete range of USTC certified portables. These may also be used for certain marine applications within EU/EFTA jurisdiction, where ocean-going vessels exceed 500 gross tonnes and are covered by the IMO convention.
GMDSS Approved - not only fully compliant to IMO and wheel marked, the Entel GMDSS models are also intrinsically safe (both ATEX and USTC certification is available). Entel is the first manufacturer to offer a solution to ship owners who, quite rightly, have been demanding an intrinsically safe approved GMDSS portable for their hazardous cargo vessels. It is mandatory, by law, for hazardous cargo vessels to use intrinsically safe radios. Why should their GMDSS portables be any different?
For our product brochure, please click the link below.