Integrated alarm messaging
This is the presenting of a text message from a third party system onto a mobile handset such as a DECT, IP or paging unit.
For example the third party system might be a processing machine in a food factory. The machine requires maintenance as it over heats and triggers the 'over heat' signal. This information is fed into the ANT mobility system and a message indicating the issue is forwarded to the maintenance team. This team could be anywhere onsite but they receive the information on their mobile device and can react immediately and resolve the problem.
We have integrated our mobility solution to many third party systems such as fire and air conditioning systems, crash systems in hospitals - anything that requires an immediate response.
For our product brochure, please click the link below.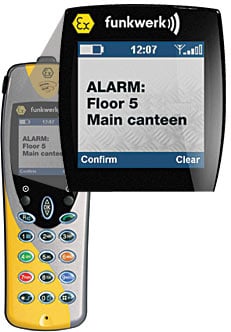 Example of a possible alarm